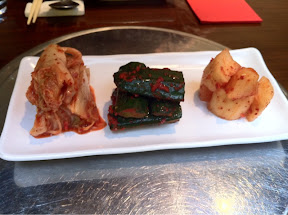 I love Korean food, but it's not often I go out for a Korean meal. For a start, I find it pretty scandalous how London restaurants can charge for assorted kimchi, essential for any Korean meal, which is unheard of in Korea or indeed many other places. We were charged £5.90 for this little lot.
But, no matter as the soondubu jiggae, a spicy stew of barely set tofu and seafood (tiny little mussels, prawns and octopus) was bloody delicious. Served with a bowl of steamed rice, this was a gorgeous meal of textures and worth returning for alone. It's not as horrifyingly spicy as it looks but deeply flavoursome.
Oh! And there was a perfectly poached egg nestling inside, enriching the broth nicely as my chopsticks speared the eggy sphere. It was so comforting I was finished in mere minutes, burning my tongue in the process.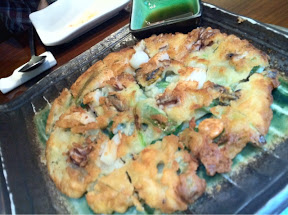 A spring onion pancake, packed with mainly octopus and squid was crunchy yet squidgy, pretty addictive stuff.
It's not a cheap lunch, coming to around £15 but I know for sure I'll be coming back for that jiggae.
Koba
11 Rathbone Place
London W1T 1 NA
Tel: 0207 580 8825